I've been using Subsonic for quite some time now & it rocks! I like it so much that I even donated

Here's my 2 lowly Subsonic suggestions/tweaks:
1] Only have the "New version of Subsonic Available" show up on Admin user accounts. It does not make sense to have regular users to be able to see this message. I know they can manually turn it off in the settings, but most don't know where it is. I think it should be set so that regular users by default do not see this message & have to manually turn it on in order to see it.
2] Can have music displayed by "Genre" in search. See included pict for an example. When you click the drop down list, it would just have a list of all the music genere's. Whichever one you choose, it would display all music that is tagged by that genre. This is handy when you have over a thousand different artists & thousands of albums & songs to find stuff that you might in the mood for but forgot about.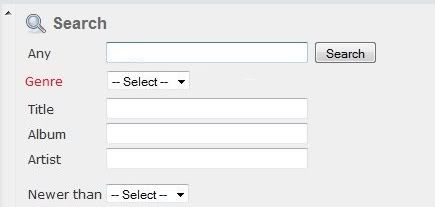 I'm not saying/showing that's how it should be setup, but my MS Paint skills suck. "Genre" is in red to see what should be added. Pict is merely to articulate what I'm suggesting...